There is an early out today at 1:00. Early outs are on the last Wednesday of each month.
9-12 Boys Basketball Schedule 2022-23
9-12 Girls Basketball Schedule for 2022-23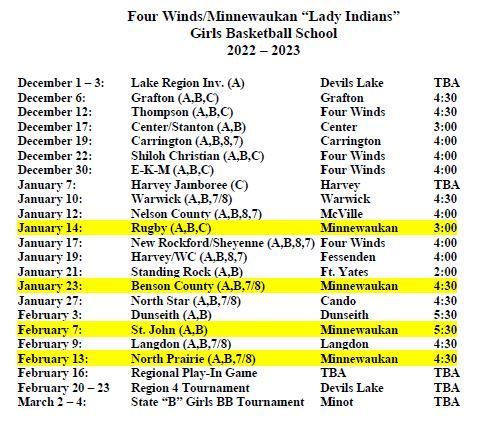 Attention Parents/Guardians: This Wednesday, 11-30-22, Minnewaukan School has a 1 PM Early Out. All students will be brought home on the bus at 1 PM. Students participating in Wrestling, Boys and Girls Basketball will need to line up their own rides to 4 PM practices and home from 4 PM practices, (both ways), for Wednesday. Make sure to plan ahead for transportation on this Early Out day. Thanks
Pre-K - 6th grade Christmas Concert will be Wednesday December 14th at 2:00 PM in the Minnewaukan Gym. 7-12 Christmas Concert will be Thursday December 15th at 1:00 PM, also in the Minnewaukan Gym. Thanks.

All students will be dismissed at 3:00pm today and will load the buses to go home because of Heritage Day today!

We're celebrating Native American Heritage Month next week, Nov 28-Dec 2, with dress up days!

There will be no 21st Century today, Nov. 17, due to anticipated road conditions.

There will be no 21st Century tonight due to road conditions.

There is no 21st Century tonight.

There is no school Thursday and Friday, November 10th and 11th. See calendar on website for other days off.
5/6 BBB games today with Four Winds starting at 4:30 PM. These games will be the last for the season, no games remaining as the ones previously scheduled on 11-15-22 with Carrington have been cancelled, due to double booking on the same date.
The 5th and 6th grade Boys Basketball games that were scheduled for today have been cancelled. Apologize for the late notice, just found out myself.

5/6 Grade Boys Basketball games vs Carrington Today have been CANCELLED!!!

With parent/teacher conferences tonight from 4pm-7pm, there will be no 21st Century.

No 21st Century today or tomorrow due to parent/teacher conferences.

Reminder: Parent/Teacher Conferences are Today, Nov. 2 and Tomorrow, Nov. 3. Both days are from 4pm-7pm.

Four Winds-Minnewaukan HS Girls Volleyball will be hosting a "Play-in" match this Thursday night at 6 PM vs the St. John Woodchucks, at Minnewaukan High School Gym. The winner of this match goes on to the regional tournament next week at Devils Lake High School, November 7 - 9th. Please come and support our Lady Indian Volleyball players in their "play-in" match!
Today at 4:30 PM at Minnewaukan Gym we have one 5th and 6th grade Boys BB game with Leeds. I apologize or the short notice. Thank you.