Daily Bulletin - Wednesday, April 20, 2022 Day 154 of school, ONLY 22 days of school to go, 30 calendar days until the last day of school or graduation! Mid-term for 4th quarter is today. Mid-term reports to be mailed to parents/guardians on Friday. *9-12 Prom is Friday May 6th, if you are planning on inviting anyone who does not currently attend Minnewaukan High School, that person has to be approved by Mr. Mahon by no later than 4-29-22. Students who are on OSS or Distance Learning on the day of the Prom, will not be eligible to attend Prom. Students, starting today, Tuesday April 19, 2022, NO MORE ENERGY DRINKS, *(Monster, etc..), at the school. Teachers please confiscate or send the student down to my office. Thanks All Spring Sports Daily Activity schedules are at this link:
https://www.easterndakotaconference.org/public/genie/187/school/37/
*Please go to this link for the most current and accurate information regarding our Spring sports, Thanks! Teachers, please read the Daily Bulletin to your 1st period classes EVERY DAY, 1ST PERIOD. *After school for 7-12 students today. Saturday School this week, Contact Mr. Mahon if you are planning on attending. 8:00 AM to 4:00 PM Students who need to make up time better get busy, as the end of the school year is rapidly approaching. NO VO-Tech today, DLHS has an Early out today. VO-Tech students who get their guardian to excuse them, may go home. Remaining VO-Tech students go to Ms. Davis' room 5th period, Ms. Widmer's room 6th and Ms. Zacher's 7th period. We still have a student vaping problem! Teachers, please continue your bathroom supervision duties. Thanks e-Sports practice today.
Students in Grades 9-12: Prom sign-up is happening now until Friday, April 29th. Students can sign-up and pay in the school office. The cost is $10/per person. There will be dinner and prizes for all who attend!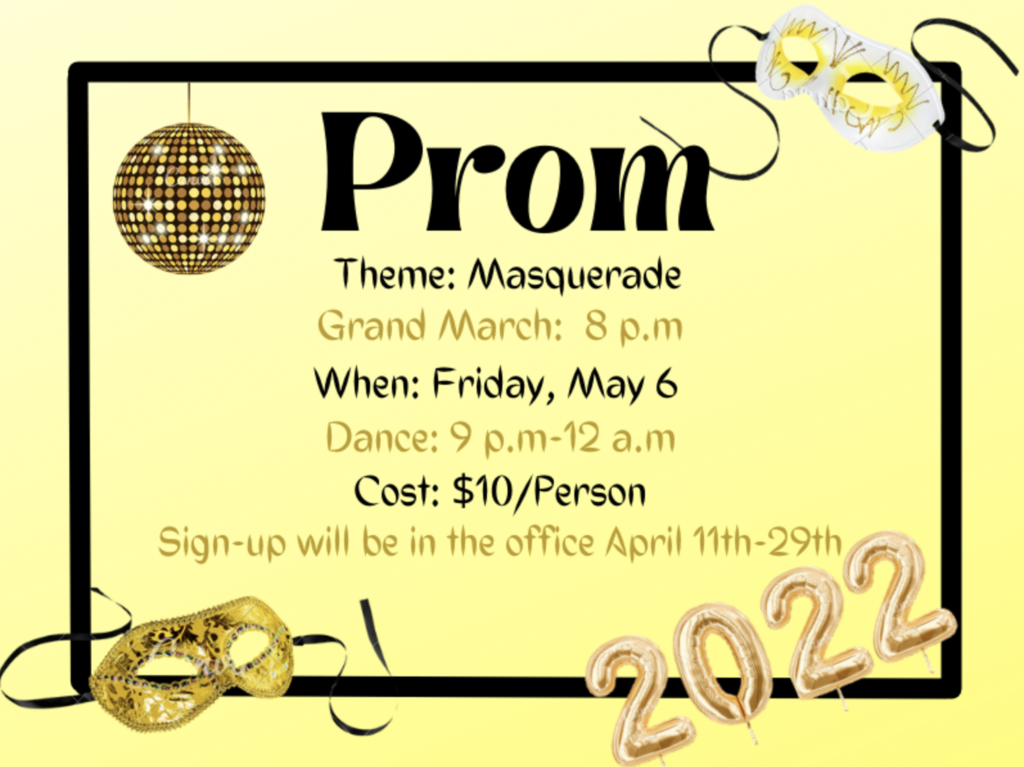 Family Night will be tomorrow, Wednesday, April 20th starting with supper at 5:30 followed by family activities until 7:30. Parents with students in Kindergarten through sixth please return summer school sheets by Friday so we can start planning. Contact the school for any questions or if you need another summer school sheet.

*There will be virtual school again tomorrow, April 14th. Elementary students in grades Preschool-6 please complete packets that were sent home. High school students in grades 7-12 login to classes and complete assignments to receive your attendance for each period. *There is no school on Friday the 15th or Monday the 18th. *Stay safe everyone!

There will be virtual school on Tuesday, April 12th and Wednesday, April 13th due to anticipated weather. Elementary students in grades Preschool-6 please complete packets that were sent home. High school students in grades 7-12 login to classes and complete assignments to receive your attendance for each period.

Please note: Students in elementary will bring home emergency snow day packets. This does NOT mean we do not have school the following day. This is just for us to have in case we feel we may need to call off school. **You will receive an alert and it will be posted on FB if we are going to delay school or do virtual learning for the day.
Prom registration will begin Monday, April 11th. Students in grades 9-12 can sign-up to attend prom. See the poster below for additional details. Students will receive a timeline for prom events at the time of registration.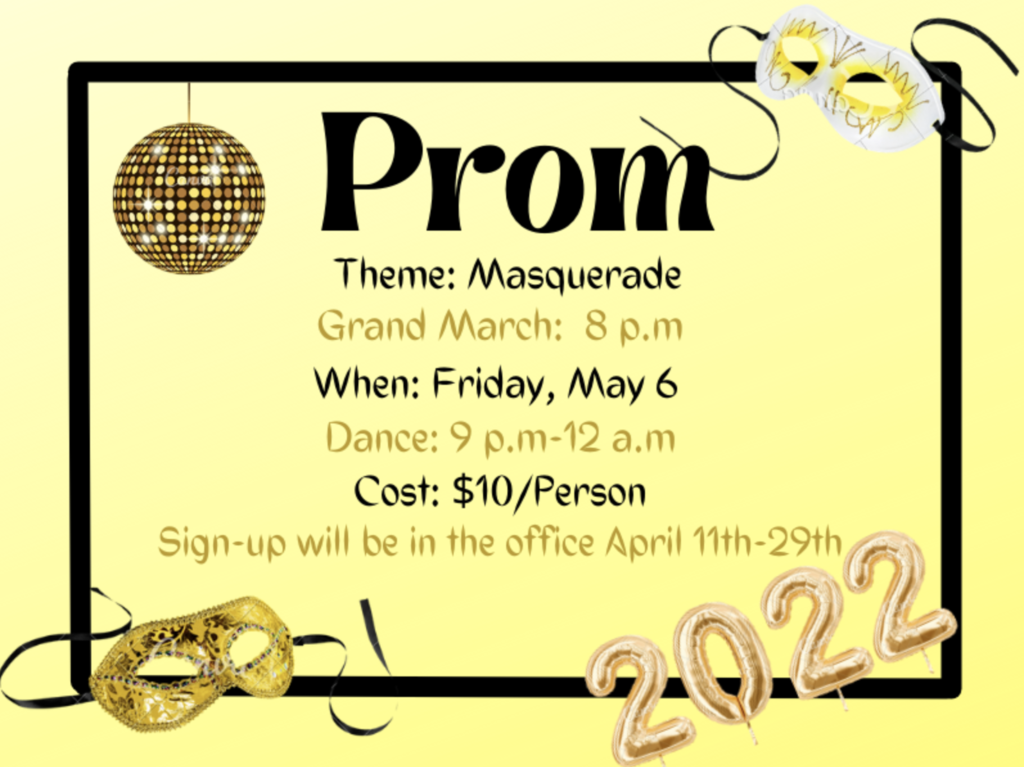 Families with students in grades 6-12, please fill out this survey to help us support your students with college and career planning. Those who complete it will be entered into a drawing for a gift card! Thank you for your feedback!
https://forms.gle/pCqtswDucosV3oH89
On Wednesday, Elementary students met with their Mentor Groups to work on a group challenge. Their challenge was to build a cup pyramid using only a string and rubber band device to stack the cups, and of course, practice their teamwork skills! The students loved working and learning together and are excited to do it again next month!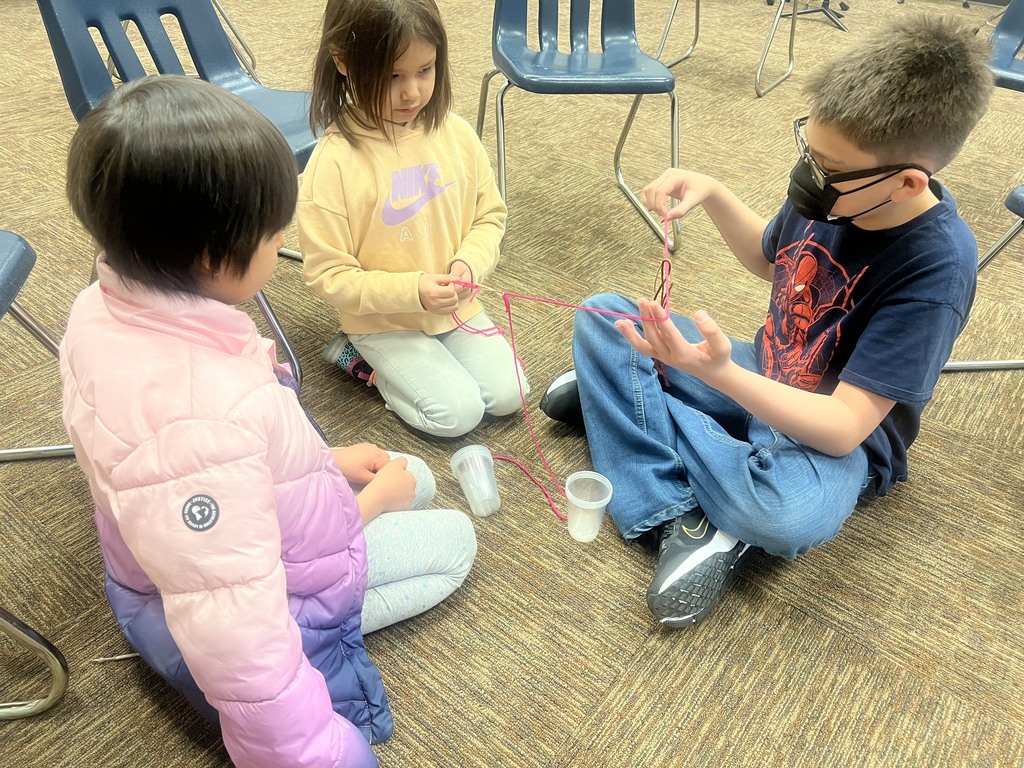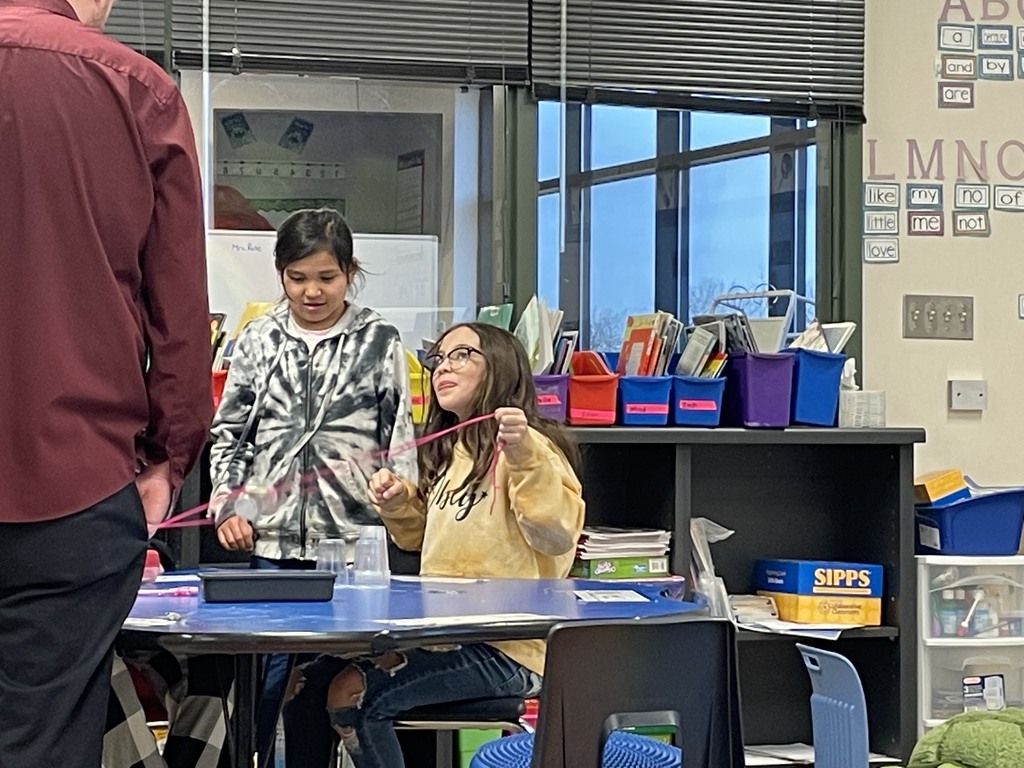 Just a reminder parent teacher conferences is tonight from 4-7. The book fair will be open during this time!

Parent teachers conferences will be held tonight from 4-7 and on Thursday from 4-7. There will be no 21st Century on either days. The book fair will be open during this time as well!

Parent/Teacher conferences will be held Tuesday and Thursday from 4-7. You may stop into the school or call to be updated on your student's progress. The first day of the book fair will also be tomorrow!
There will be no 21st century or after school program today, Thursday March 24th.
Elementary Parents, Summer School signup sheets for grades Kindergarten through sixth were sent home with your student today.
This Thursday March 24th many of our 9-12 students will be attending the Science Olympiad in Bottineau. They leave from Minnewaukan School at 9 AM and return between 7:30 PM and 8 PM. Parents of these students will need to pick their student up in the Minnewaukan School parking lot and give them a ride home. Thanks

Please see the attached flyer for information on an upcoming vaccine clinic.

All students in grades PK-12 will be attending the pep rally to celebrate the FW-M boys basketball team going to state on Wednesday, March 16th @ 12:00 at FourWinds. Students will be dismissed and bused home as soon as the pep rally concludes. Please call the school before 11:00 on this day with any alternate plans for your student. ** The pickle sale will now be tomorrow, Tuesday March 15th, at 2:30!

Tomorrow, March 15th, is spring picture day!! Pictures will start around 9 and conclude before noon. Students who bring a form will be photographed. If you wish for your student to take pictures and they do not have a form please communicate that to your child and/or their teacher if they are younger. Forms will be sent home tonight.