5th and 6th grade Boys basketball will start next Monday, October 3rd at 4 PM in the Minnewaukan Gym. Only 5th grade and 6th grade students are allowed to participate. Any questions, please call the school at 473-5306. Thanks
Attention all student athletes, on our 1 PM Early Out days like today, you will be bussed home at 1 PM. Then it is your responsibility to get rides, to and from practices on this day. For example, VB has practice scheduled at 3:45 PM, you will need to get a ride to practice at 3:45 and then also have a ride to get you home following practice. If you are not going to go to your practice, you need to make your coaches aware. Thank you.

The phones at MPS are not properly working. If you need to call the school you can call from a land line, Facebook message the school page, or contact (701) 426-5947. *The phone company has been contacted about this issue and hopefully they will be working again soon.

There is an early out tomorrow at 1:00. There is not 21st Century. All students will be dismissed at this time. **Early outs will always be on the last Wednesday of each month.
5th and 6th grade Basketball games vs Leeds today have been cancelled. They will have practice today at Minnewaukan at 4 PM. Any questions call the school at 473-5306. Thank you.



Please see the attached flyer for the dress up days at MPS for next week!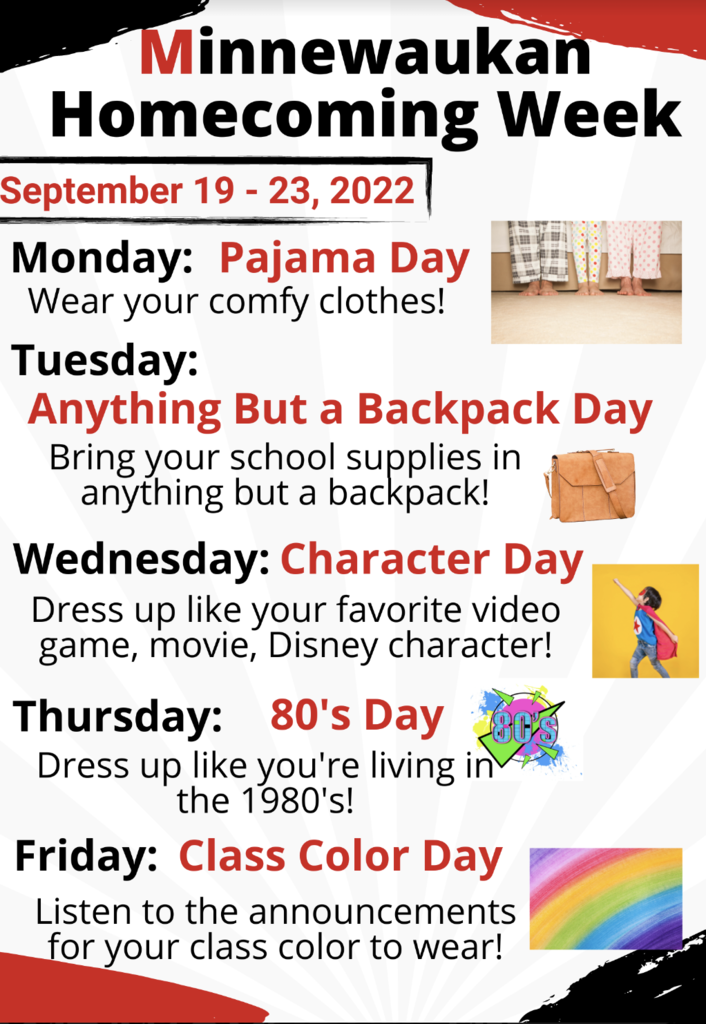 Daily Bulletin - Friday, September 16, 2022 TGIF Day 21 only 155 left! Today, Friday, our Juniors and Seniors will attend a College and Career Fair. We will leave at 8:50 AM and return by 3:30 PM. Any questions please contact Randii Reed. NO eSports practice today Homecoming Week starts Monday, September 19th! Dress up days are as follows: Monday - Pajama Day Tuesday - "Anything but a Back-Pack Day" Wednesday - Character Day Thursday - 80's Day Friday - Class Color Day 7th Graders GREEN, 8th Graders BLUE, 9th Graders PURPLE, 10th Graders RED, 11TH Graders Grey, and 12th Graders PINK. Homecoming Coronation will be Wednesday September 21st, from 9 AM to 9:30 AM, in the Gym, everyone is invited. Homecoming "Clash of the Classes" will be Friday September 23rd from 11:10 to 12:14 PM. *We will have a modified bell schedule that day. Homecoming Dance will be from 7 PM to 10 PM Friday September 23rd. Midterm is TODAY Friday September 16th. Teachers have your grades in by Noon on Monday. After school bussing is tentatively scheduled weekly as: M/W- Minnewaukan, Crowhill, in town Ft. Totten area T/TH- Oberon, St. Michaels, Devils lake, and Crowhill/Ft.Totten Friday - No After-school bussing/programming Practice times for today: 5/6 GBB NO PRACTICE 5/6 FB NO PRACTICE 7-8 FB practice at 4 PM at the Sports Center 9-12 FB 9TH & JV Practice at 4 PM at NDSD VARSITY FB GAME VS FARGO SOUTH AT 7 PM AT ROLLER FIELD. 7-8 VB Practice at Minnewaukan at 4 PM 9-12 VB Practice at Four Winds at 4 PM 7-12 XC practice at Four Winds at 4 PM DLHS Activity Calendar can be located at:
https://www.easterndakotaconference.org/public/genie/187/school/37/
7-8 GBB Schedule updated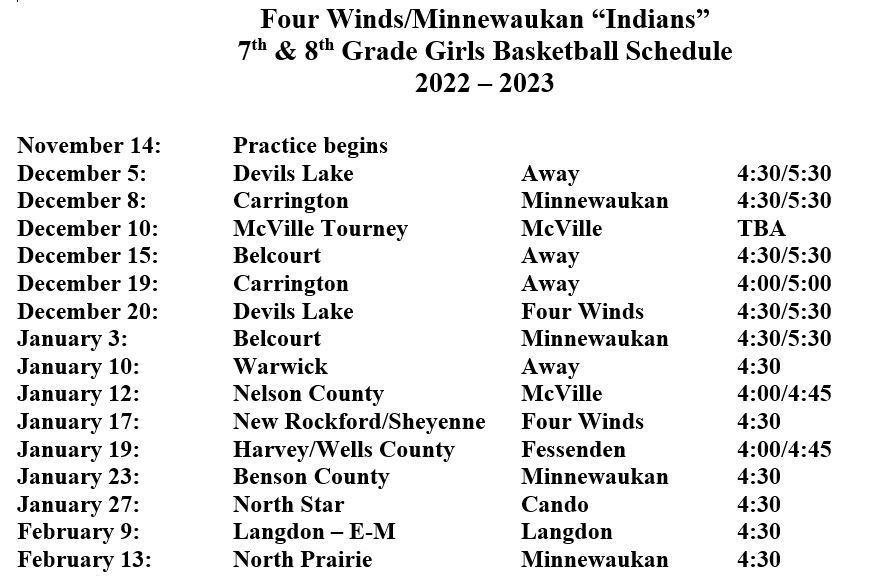 The 21st Century After school program for grades kindergarten through 6th grade starts today, Sept 6. Tuesdays and Thursdays students living in Devils Lake, St. Michael, Oberon and Minnewaukan can attend. Monday and Wednesdays students living in Ft. Totten, Crow Hill and Minnewaukan can attend.
5-6 GBB Schedule for 2022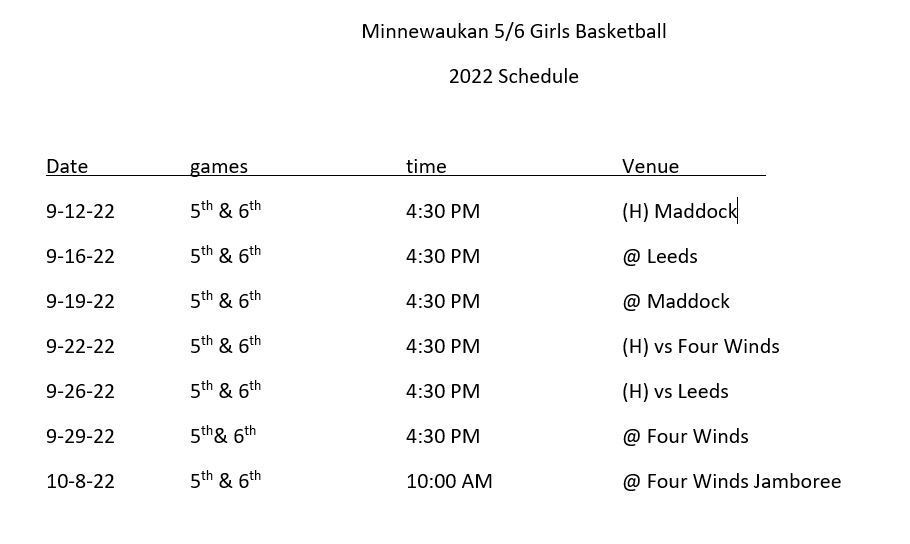 Attention 7-8 FB Parents: Tonight following the 7-8 FB games in Minot, Minnewaukan has lined up a bus to take the 7-8 FB players home. The teams should arrive at DLHS by 10 PM and then our bus will run them home. Any questions please call the school, at 473-5306.

Reminder: Minnewaukan students get out at 1 PM on Wednesday. Minnewaukan busses our "activity participating" students to their homes at 1 PM, and the students/parents are responsible to give rides to practice and rides home from practice on our 1 PM Early Out days. 1 exception for this Wednesday is 7-12 VB, as they have Picture Day and will be bussed to Four Winds right after school at 1 PM for that.

Tomorrow, August 31st, is an early out for staff professional development. All students will be bused home at 1:00. **Early outs will always be on the last Wednesday of the month.

Daily Bulletin - Tuesday, August 30, 2022 Day 9 only 167 left! TGIF!! All 5th and 6th grade girls who signed up for practice, Coach Darwin will take a bus over to the Fort Totten rec center after school, then following practice, Coach Darwin will take the kids home who need a ride home. *Reminder, 1:00 PM Early Out tomorrow! Teachers, check your email, and send students down 1st period who are listed via today's email. Thanks. Wednesday, 7-12 STAFF MEETING 8:15 AM in Mrs. Bullinger's room. Scrambled Eggs for breakfast and Hot Ham and cheese sandwiches for Lunch today. VB, XC and FB players need to turn in a copy of your physical form, concussion form and FB also has DLHS Activity form, to Mr. Mahon as soon as possible. If your forms are not turned in, you cannot play. Go see Mr. Mahon if you have questions. ATTENTION VO-TECH STUDENTS: UPON RETURN FROM VO-TECH CLASSES, REPORT TO MR. LAWRENCE IN THE HS LIBRARY. NO AIMLESS WANDERING. THANK YOU! Practice times for today: 5/6 GBB practice at Ft. Totten Rec Center at 4 PM 5/6 FB Practice at Four Winds at 4 PM 7-8 FB 3:30 to 5:30 PM at Sports Complex FB Field 9-12 FB practice at NDSD at 4 PM 7-8 VB practice at Minnewaukan 4 to 6 PM 9-12 VB practice at Four Winds, 4 PM to 6 PM 7-12 XC meet at Carrington at 2 PM, Cailee and Melody excused at 11:15, leave at 11:45 from Four Winds. DLHS Activity Calendar can be located at:
https://www.easterndakotaconference.org/public/genie/187/school/37/

MPS is planning a culture day for students in grades 3-12. We are reaching out to families of our students and the community to see if there would be any volunteers who would like to share their knowledge with students. Please contact MacKenzie Moen if you would like to volunteer or have any input.

Daily Bulletin - Monday, August 29, 2022 Day 8 only 168 left! TGIF!! All 5th and 6th grade girls interested in playing basketball, there will be a mandatory team meeting in the Middle POD with Coach Darwin ThreeIrons at 3:10 PM TODAY. 1ST PRACTICE IS TOMORROW at 4 PM at the Fort Totten Rec Center. Students planning to attend our first home Volleyball match TODAY will need to make sure they have the $4.00 ticket price, and have a ride home following the matches, (7th, 8th, JV, and Varsity). The school will NOT be providing rides home following our home matches for student spectators. Make sure you secure a ride home if you plan to attend. Thanks. K-12 STUDENTS: Another friendly reminder, if you do attend any of our athletic contests, plan on staying in the Gym and watching the event. If you are just wandering around the building during the matches, you will have to call to get a ride home. You are a spectator of these events, this is not glorified free time/recess, and I am not here to babysit you. Thanks Teachers, check your email, and send students down 1st period who are listed via today's email. Thanks. Wednesday, 7-12 STAFF MEETING 8:15 AM in Mrs. Bullinger's room. Cereal for breakfast and Macaroni Hamburger Hot Dish for Lunch today. VB, XC and FB players need to turn in a copy of your physical form, concussion form and FB also has DLHS Activity form, to Mr. Mahon as soon as possible. If your forms are not turned in, you cannot play. Go see Mr. Mahon if you have questions. Please let our VO-Tech students out for lunch at 12 Noon. List of VO-Tech students has been e-mailed to all 7-12 teachers. ATTENTION VO-TECH STUDENTS: UPON RETURN FROM VO-TECH CLASSES, REPORT TO MR. LAWRENCE IN THE HS LIBRARY. NO AIMLESS WANDERING. THANK YOU! Practice times for today: 5/6 FB Practice at Four Winds at 4 PM 7-8 FB 3:30 to 5:30 PM at Sports Complex FB Field 9-12 FB JV and 9th Grade games starting at 5 PM vs Valley City at DLHS 7-12 VB GAMES AT 4 PM AT Minnewaukan, 7-8-JV-V PM 7-12 XC PRACTICE at Four Winds at 4 PM DLHS Activity Calendar can be located at:
https://www.easterndakotaconference.org/public/genie/187/school/37
5-6 FB Schedule for 2022